Perceiving art as good or bad is very subjective. Nevertheless, I wanted to make a List of Romance Webtoons with unique art. Where you get the feeling of not having seen this style before or at least not that often. I really hope you enjoy these five Romance Webtoons and Manhwa recommendations.
Romance Manhwa Recommendations with unique art: The lady and the beast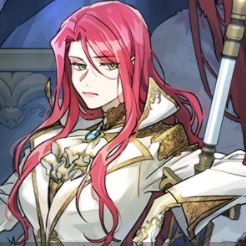 Oficial summary on tappytoon: Following a life of bloodshed and heartbreak, the great Empress Martina is reborn as Astina, the genius daughter of a humble count. But her peaceful world is shattered when bankruptcy forces her father to marry her off to the dangerous Archduke Atalenta. All of high society knows him as "Terriod the Beast" because of a family curse that turned him into a wild monster.
Luckily, even the deadly beast of Atalenta is no match for the former empress's mighty sword. Everyone is shocked when the new archduchess tames her husband all too easily and takes over as the family head. He resembles her past life lover, but he has no memory of her from his wolf days. Despite these awkward circumstances, can the new power couple join hands to rule over the archduchy?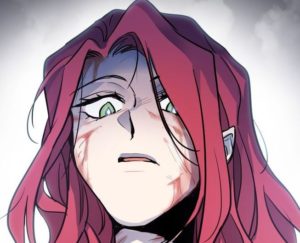 Romance Manhwa with unique art – Short review: Astina is strong, smart, and kind, and probably the most competent female lead I encountered in a while, without it feeling overbearing or just too convenient because she also has her shortcomings. I shortened the official review a bit because it contains a spoiler in my opinion. It is way more fun if you read it without knowing. I included this Manhwa in my list cause the art seems very sketched but is also beautiful at the same time. The lines are rough and the noses are sometimes not drawn at all but I love it.
The dynamic between Duke Atalenta and Astina is great, they really respect each other and Teriod is the bashful one in the relationship. In the beginning, I thought: what is this rushed story? But as it turns out, it's just the backstory of Astina. First I was a bit creeped out about Astinas pragmatical approach to giving Teriod an heir – even in his wolf form, but it's actually kind of funny.
Read here: The lady and the beast (tappytoon)
Romance Webtoon recommendations with unique art: Down to earth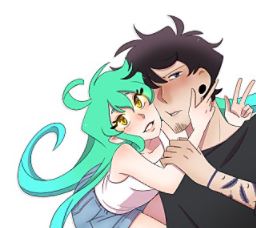 Official summary on webtoons: Kade lives his average life alone and undisturbed… until a cute alien girl crashes into his backyard! By opening up his home, will this otherworldly girl inadvertently open up his heart?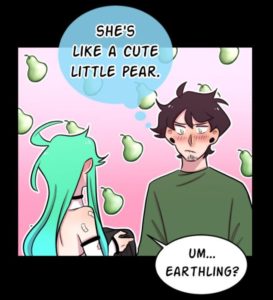 Romance Webtoons with unique art – Short Review: I really debated if I should put this in the list cause the art is not that different from what I am used to reading, but the colors, the ears, the eyes the tattoos, etc. made me think otherwise. I love Down to earth. Kade and Zaida have much character development throughout the story. Zaida gets accustomed to earth and gets more independent and Kade slowly crawls out of his shell of self-pity and begins to heal his broken heart and his antisocial behavior. Their interactions are really sweet, although Kade is a stone sometimes.
Read here: Down to earth (webtoons)
Lore Olympus – the Romance Webtoon with really different art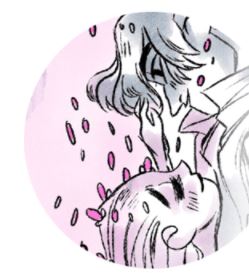 Official summary on webtoons: Witness what the gods do…after dark. The friendships and the lies, the gossip and the wild parties, and of course, forbidden love. Because it turns out, the gods aren't so different from us after all, especially when it comes to their problems. Stylish and immersive, this is one of mythology's greatest stories — The Taking of Persephone — as it's never been told before.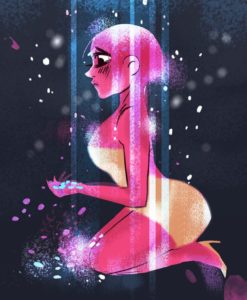 Romance Webtoons with unique art – Short Review: This Romance-Comic has 4.7 Million Subscribers on Webtoons and is one of the most successful comics on the site. I started reading it and put it away due to a very sensitive topic in chapter 24. But after some time I picked it back up again and I am glad I did. The art is beautiful and the relationship between Persephone and Hades is really adorable. It's a slow burn for sure, but that's what makes it special. Hades doesn't push for anything and just completely supports Persephone.
Read here: Lore Olympus (webtoons)
Romance Webtoons with unique art: Antistalker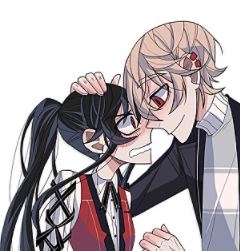 Official summary on webtoons: "At this school usual students study with vampires from wealthy families. She is a representative from the disciplinary committee, he is a guy who breaks school rules. She is a hunter, he is a target. He is her stalker, she is his target."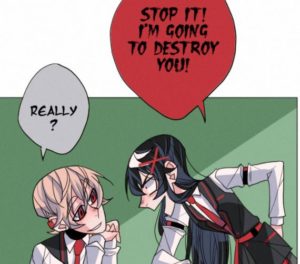 Short summary: The official summary is kinda wack so let me give you a quick rundown of the plot: The story revolves around Kira and August. They are childhood friends but Kira doesn't remember that for some reason. They both go to a mixed school where vampires, werewolves, and humans study together. In the first chapter Eugene, the vice-president of the student council tries to help August by placing roses and some weird photo in Kiras locker but that little stunt backfires and Kira thinks that August is her stalker. Nevertheless, he lets her believe that to get closer to her.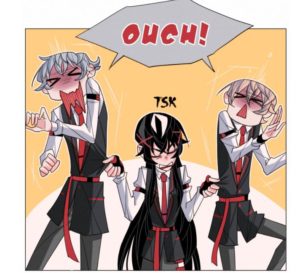 Romance Manga/Manhwa with unique art – Short Review: Antistalker has some cliché-elements like August having to marry a werewolf-woman to secure the peace between species, Kira having Amnesia and there is another love interest for Kira. Nevertheless, I think this Comic is unique and I really love the art style. Kira is very strong (physically) and makes sure to keep the balance in the school. August on the other hand is really caring and tries to help Kira wherever he can although he has to deal with his toxic family. This one has a good plot and is really fun to read. In conclusion: give it a try.
Read here: Antistalker (webtoons)
Romance Webtoons with unique art: A common story of a ladies new life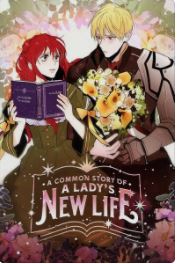 Official summary on tapas: "Valerie thought she'd be a genius mage in this world. But when her magic can't get past basic and her teacher shares a prophecy of a tiger coming to attack(!!), she opts to enjoy an ordinary life. Everything's fine until she's engaged to none other than Duke Kylus Dwello. It's just one thing after another—the mysterious Serena, the servants who ship the duke and Serena, a prince who doesn't understand boundaries, and even the duke looming over her bed! Can she get back to her nice, quiet life?"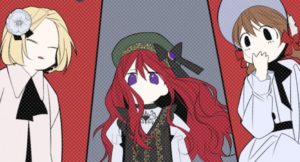 Romance Manhwa with unique art – Short review: This Romance-Manhwa has a very interesting art style. The eyes are drawn pretty droopy and the characters look like they are cut out and placed into the frames but somehow it works. If you like funny misunderstandings, this Comic is your jam. Valerie constantly misinterprets situations because of her knowledge from all the Romance-novels she read in her past life. She thinks the duke's house is a "tigers den" and everyone is out to get her. She is convinced that Serenia and the Duke are lovers and he wants her gone, however, the opposite is the case: Kylus is just clumsily trying to profess his affection. If you are in the mood for a lighthearted Rom-Com this could be for you.
Read here: A common story of a ladies new life (tapas)
Check these two out too: The Lady and Her Butler (tapas) and Edith (webtoons). I will probably make a list in the future where I include them but they do have quite a lot of Drama and conflict.