There are many Shoujo Mangas out there but Romance enthusiasts like myself are always searching for something new. That's why I wanted to give you a Top 5 list of one of my favorite new Shoujo Manga that came out in the last five years and transmit a mature or relaxing feeling. Where the main characters communicate, have reasonable thoughts and the relationship feels natural. I love all of them so don't take the ranking too seriously.
Best new Shoujo Manga – Short overview
Mairimashita Senpai
Yubisaki to Renren
Takane no Ran-San
Uruwashi no Yoi no Tsuki
Hananoi-kun to Koi no Yamai
When you count the interactions between the couple and their communication as a strongpoint You got me Sempai definitely deserves the number one spot. If you count the world- and character-building, including the sidecharacters Yubisaki to Renren takes the spotlight. If you love to see a relationship develop naturally Takane no Ran-San is number one. And if you love playing with stereotypes and an interesting premise you will love Uruwashi no Yoi no Tsuki. If a pretty intense but lovable male lead is your jam and you want to see two opposites making it work you should check out Hananoi-Kun to Koi no Yamai.
Best new Shoujo Manga: You got me Sempai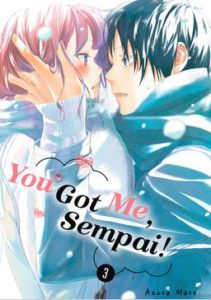 Official Summary (Bookwalker): Serina arrives at school one day to discover her desk has been vandalized—someone's scratched the lyrics to a love song in it…and that someone turns out to be Mizukawa-sempai, a boy who's one year her senior. She wants to get to know him better, but if his frosty demeanor is any indication, she doesn't have a chance! But it seems he might be awkward—not simply mean—and before she knows it, she's asking him out…! With each passing day, her heart races a little faster!
Why I like this Shoujo Manga: Although they get together in the first chapter I love how mature their relationship feels. They communicate with each other and give their best to make the relationship work. The love isn't unconditional and although they want to stay together they know it's gonna take a lot of effort. Their dynamic is really great and their interactions are realistic for a young couple. You can read a longer review here: Shoujo Manga recommendation: You got me Sempai.
Shoujo Manga recommendation 2: Yubisaki to Renren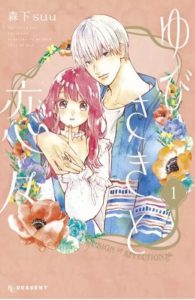 Official Summary (Amazon): Yuki is a typical college student, whose world revolves around her friends, social media, and the latest sales. But when a chance encounter on a train leads to her meeting friend-of-a-friend and fellow student Itsuomi-san, her world starts to widen. But even though Itsuomi-Kun can speak three languages, sign language isn't one of them. Can the two learn to communicate the budding feelings between them?
Why I like this Shoujo Manga: Yubisaki to Renren is from Suu Morishita (Hibi Choucho, Short Cake Cake) and does many things right. Through the panels and the facial expressions you really get warped into the story. It has a very lighthearted feel to it and the dynamic between Yuki and Izuomi is so sweet. He really takes his sign-language-studies seriously and the relationship between these two comes naturally and doesn't feel forced or misplaced. The sidecharacters are also lovable but I already feel kinda bad for her childhood friend, who "spoiler" is obviously in love with Yuki. There are also some backstories that still need to get explored and I look forward to it.
Takane no Ran-San is one of the best new Shoujo Manga from the last 5 years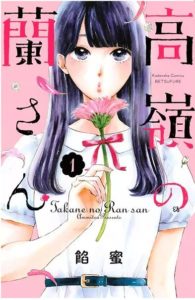 Official Summary (Amazon): Ran is beautiful and stylish, with leading scores in her class. No boy on Earth would have the gall to try their hand with her, and no one would think that she's so entirely innocent…except Akira. Join us in this innocent love story about Rin the "mountaintop flower" and Akira, whose parents own a flower shop.
Why I like this Shoujo Manga: The art is beautiful and this Manga gives off a really relaxing feeling. I especially love the buildup of their relationship. It's not too fast and not too slow. Ran finds out about Akira working at his parent's flower shop and they slowly bond over that fact, especially because they both love flowers. It feels believable why they love each other when they get together and the whole process is really sweet. And as a bonus, you get some flower-knowledge on top. There is almost no Drama (except for some chapters with the Dad) and their interactions are really sweet. The sidecharacters are interesting as well, so don't was time and read this one!
Shoujo Manga recommendation 4: Uruwashi no Yoi no Tsuki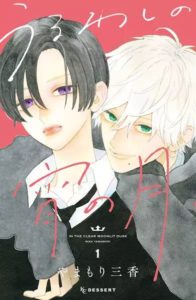 Summary: Yoi is a high school girl with short hair that is labeled as "prince" in her school. Although she doesn't like the nickname, she's constantly helping out the other girls in school and has built quite a fanbase. One day she meets Kohaku Ichimura, a beautiful guy who is also labeled as "prince" at her school. He is the first boy who is interested in her and treats her like a girl and Yoi needs to adapt to these new feelings.
Why I like this Shoujo Manga: First of all, I love author Yamamori Mika (Hirunaka no Ryuusei and Tsubaki-chou Lonely Planet). The way she sets the scene and creates atmosphere is really amazing and she shows that skill in Uruwashi no Yoi no Tsuki as well. She plays with stereotypes surrounding beautiful people and gender – especially Yoi who embraced her role as "the prince" in her school despite being a girl. The art is beautiful, the characters are interesting and I love the dynamic between the main characters.
Best Shoujo Manga 2021: Hananoi-kun to Koi no Yamai / A condition called love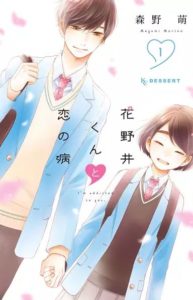 Official Summary (Amazon): Hotaru is a 16-year-old high school first-year who has always been ambivalent about love, preferring instead to have a lively life with her family and friends. So when she sees her schoolmate, Hananoi-Kun, sitting in the snow after a messy, public breakup, she thinks nothing of offering to share her umbrella. But when he asks her out in the middle of her classroom the next day, she can't help but feel that her life is about to change in a big way.
Why I like this Shoujo Manga: The whole atmosphere of this Manga is really great. I mean yes, Hananoi-Kun is pretty intense – the dude searched several hours in the snow for a hairpin – YES. A Hairpin. In the Winter. Paired with the lovely sentence "If I can see you smile, I am willing to die". So you get the gist. He is still very kind and lovable – although sometimes overbearing. Hotaru on the other hand has never fallen in love but tries her best to answer Hananoi-Kun's feelings. I think the way she sets boundaries and cares for her family and friends is great. This is a story with complete opposites: One has too much "love", the other too little (if you can even say that).