Down to Earth Webtoon Status: 63 Episodes
Summary: Kade is a pretty introverted guy that lives his everyday life alone. One night he hears a big crashing sound and goes outside to check what happened in his backyard – only to find a girl flying straight out of her Ufo and fainting. That's Zaida. He brings her home and after she regains consciousness she has one request: She asks Kade to teach her, how to be an earthling.
Down to Earth Webtoon – Short Overview
Before we get to the more detailed Review I want to give you some short bullet points, to check, if the Down to Earth Webtoon could be for you.
You should read if you:
love art style, that has a really "comicy" feel – I don't know how else to describe it. From the colors to the line art and the faces. Check out this list for more Info: Manhwa with good (but different) art.
(that one is so obvious) like to read about an alien slowly getting to learn the "Earthling" ways
like it, when almost all the characters have a punk rock feel to them
love reading comics, with cohabitation right from the start
like to read about a male lead, that is slowly coming out of his shell
Don't mind when the male lead is still hung up on somebody else in the beginning
love it, when the female lead is very adorable, curious, and kind
Down to Earth Webtoon – In-depth Review
The first few chapters:
First of all, I love how Pookie Senpai set's the mood: The transition from the opening words to Kade is awesome and you are immediately drawn into the story. Additionally, you get a feel for Kade pretty quickly: he is unmotivated and emotionally unavailable because he still has feelings for his ex-girlfriend.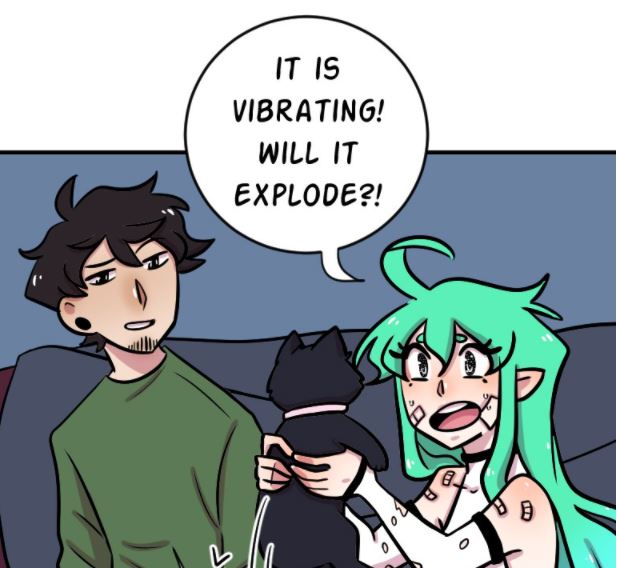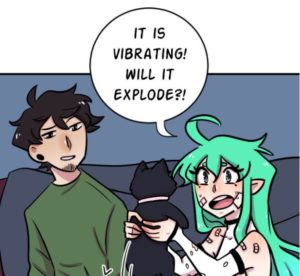 I love the first interactions they both have and the things Zaida points out, she is not familiar with – like Kades sagging ears, because of his plugs.
After Zaida literally crashes into his life and Kade decides to take her in, he makes up three rules:
contribute (he doesn't want to do all the cleaning himself)
trust (he will provide a moral compass for Zaida) and *drumroll please*
no feelings
Well, we all know where this is going – rule three get's thrown out of the window slowly but surely. The comment section is full of top comments who mention exactly that. Even in the first few chapters, Zaida makes Kade flustered several times and he already feels attracted to her. What really throws him off though, is the fact, that Zaida reminds him of "HER" – the mysterious (at that point) girlfriend, who he loved deeply.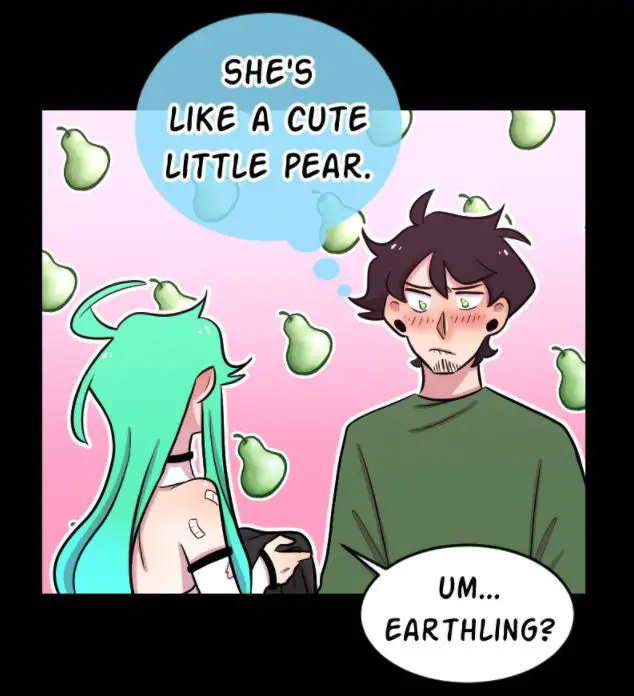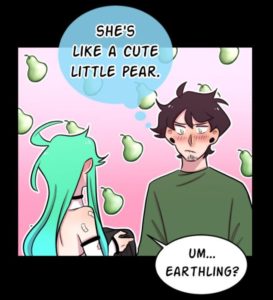 What I love about this Romance Webtoon:
Zaida and Kade can be seen as opposites – at least personality-wise. While Zaida is very positive, trusting, and curious, Kade is pretty cranky, negative, and suspicious of others. They both have a lot of character development though – especially Kade. Zaida starts questioning Kade's decisions or rather his very cautious approach to her even leaving the house or trying things on her own.
With Zay's help, Kade slowly opens up to his surroundings, finds new friends, talks things out with acquaintances, and just starts to let people in. But the most important thing is, that he starts to be more open about his own feelings. I don't want to spoil you, but we will see him cry and reflect on situations way differently than in the beginning.
And probably most of all, I love their interactions – Zay is just so precious. The way she asks him for things, the way Kade always gets swept up in her requests, the way they fight and communicate. This happened in a short dancing lesson for example Kade starts sniffing and Zaida asks: "Kade, are you crying?" Kade replies: "No! Why would I be crying you dumbass", and Zay shouts: I can hear it in your voice! May I please confirm?" The "may I please confirm" got me. Zaida is very kind but her awkwardness as an "alien" still shines through sometimes.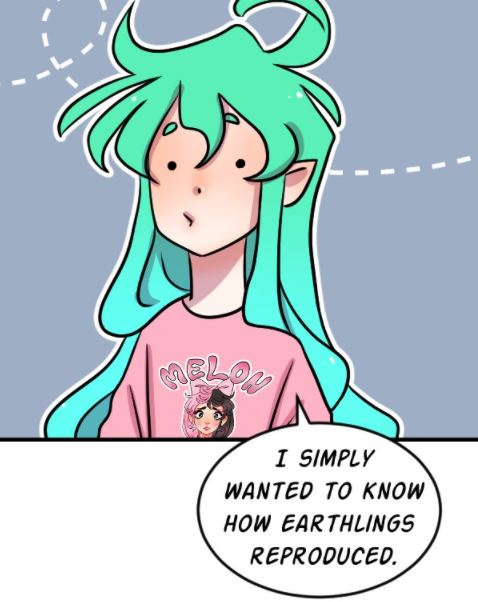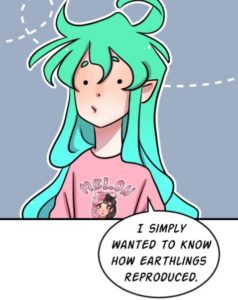 Closing remarks: If you want to read a lighthearted comic about heartbreak, new beginnings, and friendship with many cute interactions between the main characters you should definitely check out the Down to Earth Webtoon. The Romance is great so far and I like the character development. Check it out, guys.
Disclaimer: I don't own these pictures. Please contact me, if I should take them down. The Copyright belongs to © WEBTOON Entertainment Inc. / Pookie Senpai